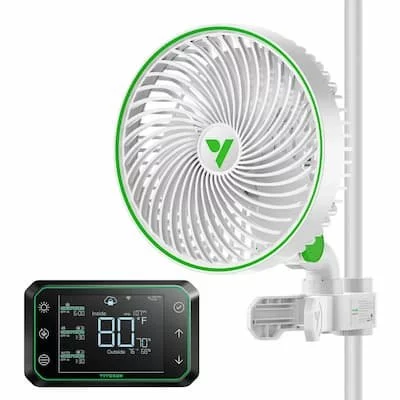 Description
Patented Design: VIVOSUN patented clamping fan can easily hold tight on round, square poles, and flat surfaces; Its clamp has a thick rubber pad to ensure it does not slip or scratch surfaces.
Powerful Air Flow & Low Noise: Powerful air flow drived by efficient EC motor with 10 speeds control and low noise. Innovative natural breeze mode provides better grow environment.
Auto Oscillation: 90° horizontal automatic oscillation with 80° manual vertical adjustment.
Smart Wi-Fi Control: Compatible with VIVOSUN GrowHub E25 and E42A, remotely control with speed adjustment and ON/OFF time setting.
Complete Safety System: Automatic Obstacle avoidance system, Oscillating isolation design and 12Vdc motor provide complete protections for tent growing application.
Easy to Clean: Removable front cover makes it easy to clean the fan blades.
App Controllable: The GrowHub Controller is WiFi-enabled so all programming can be done through your App, wherever you are in the world you will have control over your tent, your equipment, and your environment, the App also expands the Controller's capabilities through Grow Recipes and other unique settings that make the Controller even more powerful.