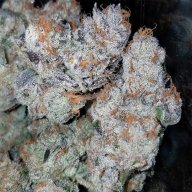 $100 OG Kush
Hybrid content
Usage & Effects
$100 OG Kush
Time of use
EVENING
$100 OG Kush
Typical Effects
RELAXED
DRY EYES
COTTON MOUTH
$100 OG Kush
Common Usage
DEPRESSED
ANXIETY
INSOMNIA
$100 OG Kush is a 50/50 hybrid that sometimes carries more Indica characteristics than Sativa. This heavy hitter is known to help with insomnia, anxiety, and depression. It's also known to give you dry red eyes and leave you with a case of cottonmouth. The average THC percentage comes in around 22%. Beautiful trichome coverage blankets luscious green buds with $100 OG Kush. The aroma and flavor are pungent and carry many characteristics that consumers love with OG Kush. Don't expect ginormous nugs from $100 OG Kush. This particular strain is notorious for producing awesome popcorn nugs.
FAQ
How much THC is in $100 OG Kush strain?
Answer: This strain contains about 25% THC on average.