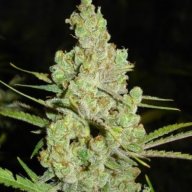 Usage & Effects
1024
Time of use
AFTERNOON
1024
Typical Effects
FOCUSED
SOCIAL
HAPPY
1024
Common Usage
DEPRESSED
A LOSS OF APPETITE
MIGRAINES
1024 is a Sativa dominant hybrid that really packs a punch. This cerebral strain of cannabis induces euphoria, providing focus, and creating a very social vibe. It works great at tackling the symptoms of anxiety and depression while also helping fight off migraines and increasing appetite. THC percentages average in the low 20s, and 1024 also boasts an average of 4% CBD. The flavor profile is described as fruity and peppery. When you're looking for a sweet Sativa, you might want to consider trying 1024.
FAQ
How much THC is in 1024 strain?
Answer: This strain contains about 25% THC on average.