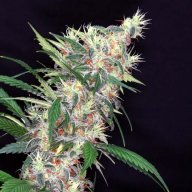 Usage & Effects
13 Dawgs
Time of use
EVENING
13 Dawgs
Typical Effects
FOCUSED
RELAXED
SOCIAL
13 Dawgs
Common Usage
DEPRESSED
MIGRAINES
PAIN
13 Dawgs is a 50/50 hybrid that can definitely get the job done. This cannabis strain has an average THC percentage coming in around 18%. The bright green nugs wrapped in red hairs covered in a blanket of sparkly trichomes make love to your mouth with every hit. The flavor has characteristics of its Chemdawg heritage. Consumers find this strain helps with stress, pain, depression, anxiety, and more. It's known to provide a very euphoric, creative, and social buzz that leaves most people feeling relaxed and focused. This hybrid is one that can send you either way. You might end up checking off your chore list or locked into the couch. If you love Chemdawg, chances are you're going to love 13 Dawgs.
FAQ
How much THC is in 13 Dawgs strain?
Answer: This strain contains about 19% THC on average.