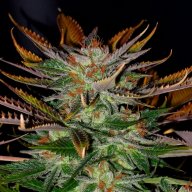 Usage & Effects
24K Gold
Time of use
EVENING
24K Gold
Typical Effects
FOCUSED
RELAXED
CREATIVE
24K Gold
Common Usage
DEPRESSED
ANXIETY
INSOMNIA
24K Gold is an Indica dominant cannabis strain considered to be a heavy hitter. This potent powerhouse packs a powerful punch with THC coming in at 24% or better. Consumers enjoy the effects of this strain, which offers many focus, creativity, and relaxation. 24k Gold is known to melt away insomnia, depression, anxiety, and stress. When flowered to perfection, you'll notice traces of Hindu Kush heritage in 24K Gold. The smoke has a very earthy flavor followed up with a peppery punch. When you're looking to sit back and relax, there's no better way than to do so with 24K Gold. However, make sure to have your Visine handy and plenty of water on hand. This strain is legendary for giving consumers a case of cotton face AKA dry mouth.
FAQ
How much THC is in 24K Gold strain?
Answer: This strain contains about 24% THC on average.