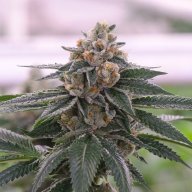 Usage & Effects
303 OG
Time of use
EVENING
303 OG
Typical Effects
RELAXED
SOCIAL
CREATIVE
303 OG
Common Usage
DEPRESSED
INSOMNIA
MIGRAINES
303 OG is a 60% Indica dominant hybrid. This variety of OG is said to be mixed with genetics from strains such as Pre 98 Bubba Kush and Chemdawg. Just like many of the OG strains, this one is no joke when it comes to performance. THC percentages average between 18 to 25% and sometimes even higher with this fire. You can expect flavors of orange with under notes of earthy soil from 303 OG. Consumers find this strain to be great at helping alleviate the symptoms of stress, depression, pain, migraines, and insomnia. If you're looking for a very euphoric and relaxing body buzz, 303 OG may be just the thing you need.
FAQ
How much THC is in 303 OG strain?
Answer: This strain contains about 26% THC on average.