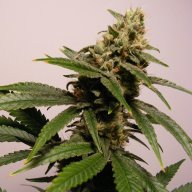 Usage & Effects
3D CBD
Time of use
MORNING
3D CBD
Typical Effects
FOCUSED
RELAXED
SOCIAL
3D CBD
Common Usage
ARTHRITIS
INSOMNIA
MIGRAINES
3D CBD is an 80% Sativa dominant hybrid cannabis strain offering a focused, relaxed, and social buzz. This particular strain is known to help consumers battle away migraine headaches, help fight insomnia during sleepless nights, and the aggravating pain of arthritis. This strain is a heavy hitter with CBD. On average 3D CBD contains a 5:8 THC:CBD ratio. You can expect THC percentages of around 5 to 8%, while CBD percentages come in at a whopping 10 to 18%! Consumers describe the flavor profile as being woody and piney with hints of tea. The buds are bright green with golden amber-colored hairs. The trichome blanket looks like fresh snow on these lovely nugs. If you suffer from stress, pain, migraines, arthritis, or insomnia 3D CBD may be the strain you need help you not only get through your day but to sleep through your night.
FAQ
How much THC is in 3D CBD strain?
Answer: This strain contains about 8% THC on average.