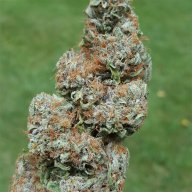 Usage & Effects
3x Crazy
Time of use
AFTERNOON
3x Crazy
Typical Effects
FOCUSED
RELAXED
CREATIVE
3x Crazy
Common Usage
DEPRESSED
ANXIETY
INSOMNIA
3x Crazy is a 50/50 hybrid that is quickly becoming a favorite with consumers around the globe. Sometimes this strain is called Optimus Prime. When flowered to perfection, 3X Crazy has the sweet smells of berries and grapes. You can expect an average of 15 to 23% THC, which gives 3X Crazy the ability to pack a punch. This heavy-hitting strain is known to not only give you a case of the munchies and cottonmouth but also is known to induce uncontrollable cases of the giggles. You can expect a sweet fruity flavor with a slight pine undertone. The buzz leaves people with a creative, focused, and relaxed feeling. This strain is great at helping fight off sleepless nights, as well as battling the symptoms of depression and anxiety.
FAQ
How much THC is in 3x Crazy strain?
Answer: This strain contains about 23% THC on average.