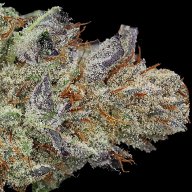 Usage & Effects
501st OG
Time of use
AFTERNOON
501st OG
Typical Effects
RELAXED
HUNGRY
SOCIAL
501st OG
Common Usage
DEPRESSED
INSOMNIA
MIGRAINES
501st OG is a 70% Indica dominant hybrid variety of cannabis that will knock your socks off if you're wearing any. The legends over at Rare Dankness are responsible for crossing some Rare Dankness #1 with a little Skywalker OG, and the 501st OG came to be. This 501 is one that has a potent THC profile averaging 20% or higher. The flavor of the beautiful green and purple buds will plaster your mouth, leaving tastes of grape and pine, with hints of spice and wood. Consumers report this strain being excellent at battling insomnia as well as fighting the symptoms of stress, depression, chronic pain, migraines, and more. The buzz is a very relaxed euphoric one leaving consumers feeling social and with a case of the munchies.
FAQ
How much THC is in 501st OG strain?
Answer: This strain contains about 29% THC on average.