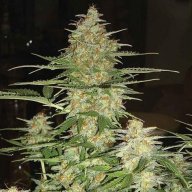 60 Day Wonder
Indica content
Usage & Effects
60 Day Wonder
Time of use
EVENING
60 Day Wonder
Typical Effects
RELAXED
SLEEPY
DRY EYES
60 Day Wonder
Common Usage
DEPRESSED
ANXIETY
INSOMNIA
60 Day Wonder is an Indica dominant hybrid consumers love. This strain is known to produce a very relaxed, sleepy, and sedated buzz. On top of relaxation, you can expect dry mouth and eyes from a couple of tokes of this potent bud. The strong THC percentage averaging 18% or higher combined with a comprehensive cannabinoid profile produces the results many people are looking for. If you battle anxiety and depression or insomnia, 60 days Wonder maybe just the strain you're looking for. Make sure you have plenty of water to cure cotton face and a good supply of snacks for the munchies on hand when you sit down for a sesh with some 60 Day Wonder.
FAQ
How much THC is in 60 Day Wonder strain?
Answer: This strain contains about 14% THC on average.