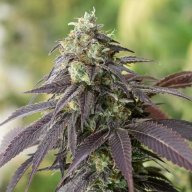 707 Headband
Indica content
Usage & Effects
707 Headband
Time of use
AFTERNOON
707 Headband
Typical Effects
RELAXED
HEADACHE
CREATIVE
707 Headband
Common Usage
DEPRESSED
A LOSS OF APPETITE
ANXIETY
707 Headband is a 60% Indica dominant hybrid variety of cannabis that might leave you feeling like you're wearing a headband. Consumers report feeling relaxed and creative from this potent bud. It's known to produce the munchies or to help increase your appetite as well as fight symptoms of depression, anxiety, and chronic pain. The THC percentage comes in at around 24% with this potent, powerful ganja. 707 headband is very true to the Headband strain of cannabis genetics. This legendary strain makes consumers feel like they're wearing a headband or a little hot and sweaty around the head. If you're looking for a great way to relax at the end of a hard day, 707 Headband is there to give you a helping hand.
FAQ
How much THC is in 707 Headband strain?
Answer: This strain contains about 24% THC on average.