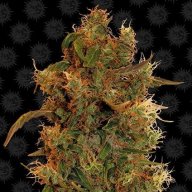 8 Ball Kush
Indica content
Usage & Effects
8 Ball Kush
Time of use
AFTERNOON
8 Ball Kush
Typical Effects
FOCUSED
HAPPY
CREATIVE
8 Ball Kush
Common Usage
DEPRESSED
ANXIETY
ARTHRITIS
8 Ball Kush is an eight ball in the corner pocket winning the game when it comes to heavy-hitting Indica cannabis strains. 8 Ball Kush is a 100% Indica dominant variety of cannabis. The THC percentage comes in at an impressive 18 to 24%. The dark green buds are wrapped in amber-colored hairs and blanketed in sparkly trichomes. The flavor is spicy with a peppery punch. Consumers report the strain being superb at fighting off chronic pain, arthritis, depression, stress, and anxiety. The buzz is one that is euphoric and creative for many. Be warned, however, a few puffs too many, and you may find yourself with a severe case of couch-lock.
FAQ
How much THC is in 8 Ball Kush strain?
Answer: This strain contains about 18% THC on average.