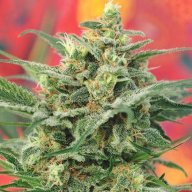 8 Miles High
Sativa content
Usage & Effects
8 Miles High
Time of use
MORNING
8 Miles High
Typical Effects
FOCUSED
COTTON MOUTH
CREATIVE
8 Miles High
Common Usage
DEPRESSED
A LOSS OF APPETITE
ANXIETY
8 Miles High is a 60% sativa dominant hybrid variety of cannabis. If you're looking to find yourself high on cloud nine, 8 Miles High is a great way to get started. Make sure you have plenty of water on hand because this strain is known to produce a severe case of cotton face AKA dry mouth. This Sativa hybrid averages 16 to 24% THC and has the effects to prove it. The luscious flavors of strawberry and mint will tantalize your taste buds while the potent THC offers your body a relaxing and uplifting vibe. The motivational and creative buzz often leaves consumers feeling focused and energetic. This is a great strain to increase your appetite and to put the symptoms of depression, anxiety, stress, and more at bay.
FAQ
How much THC is in 8 Miles High strain?
Answer: This strain contains about 23% THC on average.