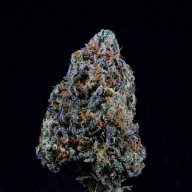 Usage & Effects
818 OG
Time of use
EVENING
818 OG
Typical Effects
RELAXED
SLEEPY
HUNGRY
818 OG
Common Usage
DEPRESSED
INSOMNIA
MIGRAINES
818 OG is a 70% Indica dominant hybrid that is absolute fire. 818 OG boasts an impressive THC percentage averaging around 22% or better. The dark green buds look as if they were coated in crushed diamonds with the amount of trichomes they hold. This heavy hitter will leave you with a case of cotton face, and the munchies, so make sure you have plenty to drink and eat nearby. Consumers report a very relaxing and sleepy feeling from this OG. 818 OG is a great strain to help you get rest at night as well as fight off migraine headaches, the symptoms of depression, stress, anxiety, and more. When you're looking for a way to relax at the end of a hard day, 818 OG won't let you down.
FAQ
How much THC is in 818 OG strain?
Answer: This strain contains about 20% THC on average.