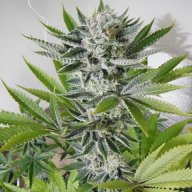 98 White Widow
THC Content
98 White Widow
CBD Content
98 White Widow
Indica content
Usage & Effects
98 White Widow
Time of use
EVENING
98 White Widow
Typical Effects
RELAXED
SLEEPY
HAPPY
98 White Widow
Common Usage
DEPRESSED
INSOMNIA
MIGRAINES
98 White Widow is a 70% Indica dominant variety of cannabis that is an old school classic with a new school kick. It's rumored that genetics of Pre 98 Bubba Kush and White Widow come together to create this tasty variety of cannabis. THC average has a strong 20% or higher with this fire. If you're looking for a little relaxation 98 White Widow is there to give it to you when you're ready. The buzz is a euphoric and happy one that leads to relaxation and sleep. 98 White Widow is said to help those who have insomnia, loss of appetite, migraines, depression, anxiety, chronic pain, and more. When you're ready to call it a day, sit back, relax, and sesh, you might want to try 98 White Widow.
FAQ
How much THC is in 98 White Widow strain?
Answer: This strain contains about 20% THC on average.