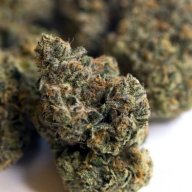 Usage & Effects
999
Time of use
EVENING
999
Typical Effects
FOCUSED
RELAXED
CREATIVE
999
Common Usage
DEPRESSED
999 is a 50/50 hybrid giving consumers a little sativa spunk and a touch of Indica relaxation. Consumers report a very focused and creative buzz that is also relaxing. THC percentages average between 14 to 22%. The flavor profile of 999 has an impressive old school flavor of diesel and pine with citrus and earthy undertones. 999 is said to knock depression out of the ballpark while also helping to promote a healthy appetite and a good night's sleep. If you suffer from headaches or muscle spasms, 999 could be the medicine you need to find the relief you're after. Make sure to check the testing on this variety of cannabis because sometimes it can contain high amounts of CBD and THC.
FAQ
How much THC is in 999 strain?
Answer: This strain contains about 0% THC on average.