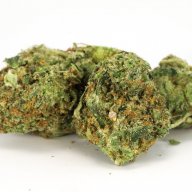 Usage & Effects
A-10
Time of use
EVENING
A-10
Typical Effects
RELAXED
DRY EYES
COTTON MOUTH
A-10
Common Usage
DEPRESSED
ANXIETY
INSOMNIA
A-10 is a heavy-hitting Indica dominant variety of cannabis that packs a punch. THC levels come in around 18% along with having high levels of CBD that vary from grower to grower. The combination of CBD and THC helps make A-10 a great variety of cannabis for those looking for a little help fighting chronic pain, nausea, muscle spasms, and more. The flavor profile of A-10 is said to be very earthy and almost has a little bit have a hash taste to it. The euphoric and relaxing buzz can sometimes lead to a sedated couch lock feeling, but it is mostly an uplifting and invigorating high. Make sure you always have hydration on hand because, just like virtually every other strain of cannabis on the planet, this one is known to leave you with dry mouth. You might be able to skip the Visine on this one as many consumers don't report having dry red eyes when blazing A-10.
FAQ
How much THC is in A-10 strain?
Answer: This strain contains about 18% THC on average.