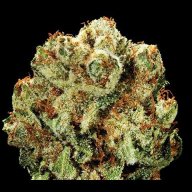 Usage & Effects
A-Dub
Time of use
EVENING
A-Dub
Typical Effects
FOCUSED
RELAXED
SOCIAL
A-Dub
Common Usage
DEPRESSED
MIGRAINES
PAIN
A-Dub is a 50/50 hybrid that offers a sativa pleaser with a lovey lazy Indica feeling as well. THC comes in anywhere between a mild 17 percent all the way to a whopping 30%. Some of the genetics in this incredible strain of cannabis include OG Kush, Sour Diesel, and Chemdawg. Don't let the flavor profile of gas and musk fool you as you exhale of this potent, powerful ganja leaves flavors of citrus and earthy undertones. If you suffer from stress, depression, migraines, chronic pain, or symptoms of ADHD, you might find A-Dub to be just what you need. The extremely high THC found in this variety of cannabis also makes it great for medical patients who like to produce edibles and tinctures at home. When you sit back to sesh with this hybrid variety of cannabis, you might want to do it around lunchtime. You could find yourself couch-locked or with a burst of energy that you didn't expect. Either way, plan ahead if you plan on seshing with a little A-Dub.
FAQ
How much THC is in A-Dub strain?
Answer: This strain contains about 30% THC on average.