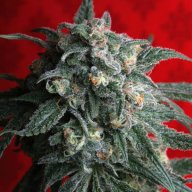 Usage & Effects
A-Train
Time of use
EVENING
A-Train
Typical Effects
RELAXED
DRY EYES
COTTON MOUTH
A-Train
Common Usage
DEPRESSED
A LOSS OF APPETITE
ANXIETY
A-Train is a 50/50 hybrid offering consumers both sides of the spectrum of indica and sativa. This particular variety of cannabis has an impressive THC percentage averaging around 20 to 24%. The beautiful green buds are wrapped in bright orange hairs that appear to have been dipped in a snowy blanket of beautiful frosty trichomes. The flavor profile has an exotic touch of menthol and citrus. A-Train is a great strain to help fight off the symptoms of anxiety, depression, stress, and to increase your appetite. It is known to give consumers a severe case of the munchies as well as cotton face, so make sure you have plenty of water and food nearby when you sesh on A-Train. The buzz from this hybrid can take you straight into the couch lock, or it might send you into checking off your chore list. Make sure you know how this one treats you before you wake and bake or try to end the day with a little A-Train.
FAQ
How much THC is in A-Train strain?
Answer: This strain contains about 20% THC on average.