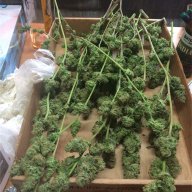 Usage & Effects
Aberdeen
Time of use
MORNING
Aberdeen
Typical Effects
SOCIAL
CREATIVE
SEDATED
Aberdeen
Common Usage
DEPRESSED
A LOSS OF APPETITE
MIGRAINES
Aberdeen is a 75% sativa dominant variety of cannabis that may be just what you need to get you through your day. This particular variety of cannabis has a close relation to Agent Orange and is said to have a little Jack the Ripper and Orange Velvet in its lineage too. THC comes in at around 15%, giving Aberdeen enough potent punch to get the job done each time. Consumers suffering from stress, depression, mood disorders, and other ailments find relief with Aberdeen. Many people report the buzz to have a very euphoric social, creative, and energetic feeling to it. Make sure you have plenty of hydration handy, so you can avoid the all-too-common occurrence of cotton face that comes with this strain.
FAQ
How much THC is in Aberdeen strain?
Answer: This strain contains about 15% THC on average.