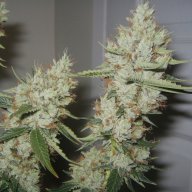 Abusive OG Kush
THC Content
Abusive OG Kush
CBD Content
Abusive OG Kush
Indica content
Usage & Effects
Abusive OG Kush
Time of use
EVENING
Abusive OG Kush
Typical Effects
RELAXED
CREATIVE
SEDATED
Abusive OG Kush
Common Usage
DEPRESSED
ANXIETY
INSOMNIA
Abusive OG is a heavy-hitting 100% Indica dominant strain of cannabis. THC levels can come in at impressive percentages. They're known to fluctuate depending on who's growing this lovely strain, but you can expect somewhere between 14 and 32% THC with Abusive OG. The extremely high level of THC makes this a great strain for producing extracts, oils, tinctures, and edibles. The flavor profile is everything you would expect from anything with the OG name. The aroma has an earthy pine-like smell followed with a deep skunky, pungent finish. This is a great strain to help with depression, anxiety, pain, insomnia, migraines, loss of appetite, and more, according to consumers around the globe. The buzz is a very euphoric and relaxed one that will leave you feeling creative and eventually sedated. If you're looking for a great way to in your day, you might try a little Abusive OG.
FAQ
How much THC is in Abusive OG Kush strain?
Answer: This strain contains about 32% THC on average.