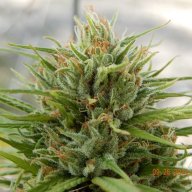 Usage & Effects
ACDC
Time of use
AFTERNOON
ACDC
Typical Effects
HEADACHE
DRY EYES
PARANOIA
ACDC
Common Usage
DEPRESSED
A LOSS OF APPETITE
ANXIETY
ACDC is a 50/50 hybrid containing both indica and sativa. The unique thing about this particular variety of cannabis is it has a meager percentage of THC while having a very high CBD percentage. ACDC averages a 1 to 6 ratio of THC and CBD. This means you might only have 2 or 3% THC and 18% CBD. This is a great variety of cannabis for those looking to make tinctures or capsules. The flavor profile is described to be a little bit on the woody side. Many consumers say this strain is better suited for capsules and edibles. ACDC is known to help fight the symptoms of stress, depression, anxiety, pain, nausea, as well as to increase appetite and help with insomnia. Cottonmouth and dry eyes are a given, but you can expect a creative and relaxing body buzz in return.
FAQ
How much THC is in ACDC strain?
Answer: This strain contains about 6% THC on average.