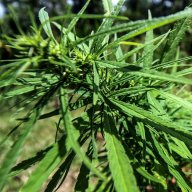 Usage & Effects
Aceh
Time of use
EVENING
Aceh
Typical Effects
FOCUSED
SOCIAL
HAPPY
Aceh
Common Usage
DEPRESSED
A LOSS OF APPETITE
MIGRAINES
Aceh is a spunky 100% sativa dominant cannabis strain. The THC in this particular variety of cannabis is low compared to many other strains available today. You can expect around 10% give or take when it comes to THC in this sativa. The flavor profile is exceptionally pleasing, being very tropical with hints of wood. The aroma is very earthy and pungent, making you want to roll one up or pack a bowl the minute you smell it. The beautiful mint green buds are blanketed in sparkly trichomes and wrapped in orange hairs. The low THC in this strain offers consumers focus and invites a happy social atmosphere. Those who suffer from stress and depression or migraines find the strain to provide significant relief. This is a great wake and bake strain to start your day and keep your head from drifting off into the clouds.
FAQ
How much THC is in Aceh strain?
Answer: This strain contains about 10% THC on average.