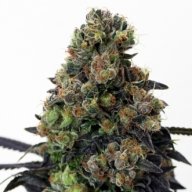 Usage & Effects
Acid Dough
Time of use
AFTERNOON
Acid Dough
Typical Effects
SOCIAL
HAPPY
CREATIVE
Acid Dough
Common Usage
DEPRESSED
MIGRAINES
PAIN
Acid Dough is an 80% sativa dominant variety of cannabis. This lovely sativa hybrid has a heritage of OG Badazz and Lilly running through it. The THC comes in at an impressive 18% or higher with this fire. The aroma will draw you in with its sweet candy tones. As you breathe deeper, it'll take you to a tropical paradise with hints of pineapple that are sure to entice the mind. The flavor will not disappoint you tasting like something you bought at a candy shop. Many consumers report significant cases of the giggles as well as an improvement in their mood after a couple of puffs of this stuff. If you're looking for relief from cramps, headaches, fatigue, stress, depression, or other common illnesses, this may be just the thing you need. The buzz is one that leaves you feeling happy and social and sometimes even a little on the creative side.
FAQ
How much THC is in Acid Dough strain?
Answer: This strain contains about 18% THC on average.