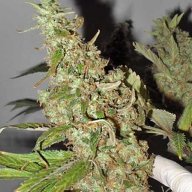 Usage & Effects
Afghan Cow
Time of use
AFTERNOON
Afghan Cow
Typical Effects
FOCUSED
PARANOIA
CREATIVE
Afghan Cow
Common Usage
DEPRESSED
ANXIETY
PAIN
Afghan Cow is a 75% sativa variety of cannabis that you are going to absolutely love! If you're looking for a buzz that leaves you focused and creative, this is it. Consumers report that creative and focus feeling along with an energetic and euphoric follow up. This strain is also great at helping with the symptoms of ADHD, depression, anxiety, stress, chronic pain, nausea, and more. THC will impress just about anyone coming in at a strong 18 to 22% or better. If you're a fan of the Afghani variety of cannabis, you will absolutely love this one. Afghan Cow may be the one that makes you go wow. Just about everyone who tries it quickly adds it to their favorite list.
FAQ
How much THC is in Afghan Cow strain?
Answer: This strain contains about 22% THC on average.