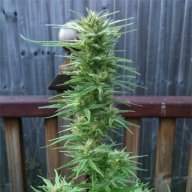 Afghan Diesel
Hybrid content
Usage & Effects
Afghan Diesel
Time of use
AFTERNOON
Afghan Diesel
Typical Effects
FOCUSED
HAPPY
CREATIVE
Afghan Diesel
Common Usage
DEPRESSED
INSOMNIA
PAIN
Afghan Diesel is a 50/50 hybrid variety of cannabis offering consumers a little bit of both Indica and Sativa delightfulness. This hybrid is one sought after by consumers around the globe. The Afghani strains of cannabis are known to get the job done time and time again. This particular variety boasts an impressive THC percentage averaging 23%. The buds have an enticing smell of citrus, and the flavor matches right up with it. This strain is also pleasing to the eye having the purple color that many consumers love, and to the delight of many, the buds sparkle from the diamond-like blanket of trichomes covering them. The buzz from this Afghan Diesel could be just what you need if you're looking to spark creativity. Consumers report a very euphoric, focused, and creative high from Afghan Diesel. It's also said to help fight away ay stress, depression, insomnia, nausea, and more.
FAQ
How much THC is in Afghan Diesel strain?
Answer: This strain contains about 23% THC on average.