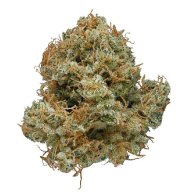 Afghan Haze
Sativa content
Usage & Effects
Afghan Haze
Time of use
EVENING
Afghan Haze
Typical Effects
RELAXED
SLEEPY
CREATIVE
Afghan Haze
Common Usage
DEPRESSED
ANXIETY
MIGRAINES
Afghan Haze is a delectable 60% sativa dominant variety of cannabis that holds true to the Afghani and Haze heritage in its name. You can expect a skunky aroma when you fire up a little of this fire. It also has an earthy and nutty flavor that many consumers just can't get enough of. THC averages around 21% in this potent, pungent variety of pot. Some people prefer a wake and bake with this strain, and others prefer the end of day sesh with it. That's the beauty of having a strong sativa heritage with a good pop of Indica in it too. The buzz is a very relaxing one that many consumers say leads to rest and sleep. It's also reported to help with pain, anxiety, stress, depression, nausea, and other common medical ailments. You might find yourself with a cottonmouth case, so be sure to have plenty of water on hand. The strain is also known to produce cases of the giggles. Nothing's worse than having the giggles and cotton face at the same time. So be responsible and be prepared when you sit to sesh with Afghan Haze.
FAQ
How much THC is in Afghan Haze strain?
Answer: This strain contains about 21% THC on average.