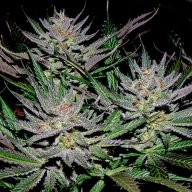 Usage & Effects
Afgooey
Time of use
EVENING
Afgooey
Typical Effects
RELAXED
SLEEPY
PARANOIA
Afgooey
Common Usage
DEPRESSED
ANXIETY
INSOMNIA
Afgooey is an 80% Indica dominant variety of cannabis that many consumers find to be the perfect nighttime strain. This hybrid produces an impressive THC content that averages 14 to 28%. The bright green buds have reddish-orange hairs wrapped all around them covered in a blanket of sparkly trichomes. They practically ooze resin from every pore. A surprisingly sweet piney pallet matches the earthy aroma. This strain makes excellent edibles, tinctures, and capsules. It's reported that Afgooey helps many people suffering from PTSD, stress, anxiety, depression, and other mood disorders. It's also great at helping manage the symptoms of chronic pain and for increasing the appetite. If you have trouble sleeping, you might want to try a little of this before bed. If you're looking for a euphoric buzz that will leave you feeling relaxed and sleepy, you're looking for Afgooey.
FAQ
How much THC is in Afgooey strain?
Answer: This strain contains about 20% THC on average.