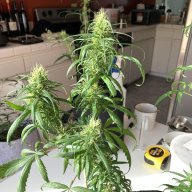 Usage & Effects
African
Time of use
AFTERNOON
African
Typical Effects
SOCIAL
HAPPY
CREATIVE
African
Common Usage
NAUSEA
African is a 100% sativa dominant strain of cannabis native to Africa. This landrace strain has brilliantly bright green buds wrapped with orange hairs. The trichomes sparkle like crushed diamonds on the buds. THC averages 10% or higher, depending on who does the growing. The flavor profile of the smoke is sweet, with a spicy herbal finish. This particular strain of cannabis produces a very euphoric and energetic buzz. Consumers find this to be a great herb for socializing. Many people also report this strain helping them fight the symptoms of nausea. If you're looking for a mellow smoke that leaves you clear-headed and focused yet knocks the edge off of the anxiety and stress of the day, you might just need a little African.
FAQ
How much THC is in African strain?
Answer: This strain contains about 10% THC on average.