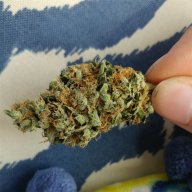 Afternoon Delight
THC Content
Afternoon Delight
CBD Content
Afternoon Delight
Sativa content
Usage & Effects
Afternoon Delight
Time of use
AFTERNOON
Afternoon Delight
Typical Effects
RELAXED
HUNGRY
CREATIVE
Afternoon Delight
Common Usage
DEPRESSED
A LOSS OF APPETITE
INSOMNIA
Afternoon Delight is a 70% sativa dominant variety of cannabis that could make your afternoon absolutely delightful. A combination of genetics, such as Tangie and Banana, were crossed to create this sweet tasting tree. THC averages a strong 15 to 18% and sometimes comes in even higher with African Delight. The aroma is described as being fruity with a skunky finish. The taste is often described as sweet and diesel-like. Many consumers report this strain being excellent at helping fight the symptoms of depression, anxiety, stress, as well as helping with cramps, arthritis, and migraines. The buzz is a relaxing one that leaves people euphoric and hungry.
FAQ
How much THC is in Afternoon Delight strain?
Answer: This strain contains about 18% THC on average.