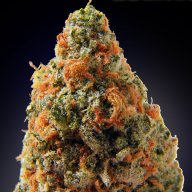 Usage & Effects
Afwreck
Time of use
MORNING
Afwreck
Typical Effects
FOCUSED
COTTON MOUTH
CREATIVE
Afwreck
Common Usage
DEPRESSED
A LOSS OF APPETITE
ANXIETY
Afwreck is a 60% sativa dominant variety of cannabis that many consumers would like to start their day with. A combination of Afghani and Trainwreck was used to produce this incredible variety of cannabis. This is an excellent morning strain boasting an average of 18% THC. There's just enough indica and sativa in this one to let you really feel the effects yet manage to keep your head out of the clouds. The last thing you want to do is start a busy day feeling couch lock. Many consumers report this strain being great at helping fight the symptoms of PMS, ADD, and ADHD. It's also great for anxiety, depression, stress, and pain, according to many. The buzz is a very euphoric, energetic, and creative one that is known to leave consumers focused and with a case of cotton face. Make sure you have hydration handy if you're smoking a little Afwreck, though, as it is known to cause dry mouth.
FAQ
How much THC is in Afwreck strain?
Answer: This strain contains about 26% THC on average.