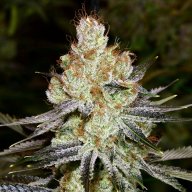 Agent Orange
Sativa content
Usage & Effects
Agent Orange
Time of use
AFTERNOON
Agent Orange
Typical Effects
PARANOIA
COTTON MOUTH
CREATIVE
Agent Orange
Common Usage
DEPRESSED
A LOSS OF APPETITE
ANXIETY
Agent Orange is a 75% sativa dominant variety of cannabis. The beautiful buds on this one is a sight to look at. Agent Orange is known for producing bright green buds blanketed in orange hairs wrapped in a fuzz of trichomes. Agent Orange produces a very cerebral, almost trippy buzz for some. THC comes in at 18 to 22% on average. This particular strain of cannabis is reported to be great at helping the symptoms of stress, anxiety, and depression. When it comes to pain, though, you might want to try something different as this strain is only recommended for minor aches and pains. If you're looking for an energetic, euphoric, and creative buzz, Agent Orange may be just the thing for you. Be warned this strain does cause cottonmouth, and some users report paranoia as an unwanted side effect.
FAQ
How much THC is in Agent Orange strain?
Answer: This strain contains about 15% THC on average.