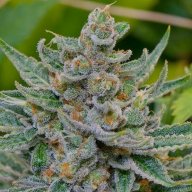 Agent Tangie
Sativa content
Usage & Effects
Agent Tangie
Time of use
MORNING
Agent Tangie
Typical Effects
FOCUSED
PARANOIA
CREATIVE
Agent Tangie
Common Usage
DEPRESSED
ANXIETY
MIGRAINES
Agent Tangie is a 70% sativa dominant variety of cannabis that is a great way to start your day. This sativa will have you buzzing around like a busy bee in no time at all. Many consumers say this variety of cannabis is equivalent to a cup of coffee. The THC in this strain comes in at a strong 16% all the way up to 18% on average. The buds are a light-colored green and have massive amounts of trichomes. They are also very resinous and sticky. The flavor profile is said to be very citrus-like with hints of lemon and orange followed up by a spicy finish. The buzz is a very energetic one that is often described as euphoric and creative, leaving consumers feeling focused and ready to tackle their day. It's reported the strain helps fight away the symptoms of stress, depression, anxiety, and is great at helping battle migraine headaches as well!
FAQ
How much THC is in Agent Tangie strain?
Answer: This strain contains about 18% THC on average.