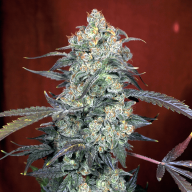 Usage & Effects
AK-47
Time of use
EVENING
AK-47
Typical Effects
RELAXED
DRY EYES
COTTON MOUTH
AK-47
Common Usage
DEPRESSED
ANXIETY
INSOMNIA
AK-47 is a 65% sativa dominant variety of cannabis that will rock your world. When it's the fire you desire, then AK-47 is the weed you need. AK-47 is known to be extremely potent, packing an impressive 20% or higher THC profile. It also boasts a little bit of CBD and CBN, helping to give this particular strain of cannabis a little extra strength. The buds form AK-47 have a beautiful green tone with lots of red hairs and a sparkly blanket of frosty trichomes. The flavor profile is said to be very earthy with slight hints of citrus and a little bit of a skunky funk. AK-47 is a consumer favorite for helping battle anxiety, depression, stress, pain, nausea, and more. The euphoric relaxing buzz is sought after by consumers globally. This potent strain of cannabis like so many others is guaranteed to give you dry mouth, and some people report dry eyes too. When you're ready to get lit to make sure you have hydration handy, and you'll be ready to sit back and sesh on your AK-47.
FAQ
How much THC is in AK-47 strain?
Answer: This strain contains about 20% THC on average.