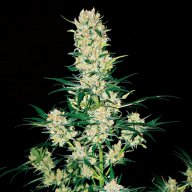 Usage & Effects
AK-49
Time of use
AFTERNOON
AK-49
Typical Effects
FOCUSED
RELAXED
HAPPY
AK-49
Common Usage
DEPRESSED
MIGRAINES
PAIN
AK 49 is a potent perky 65% sativa dominant variety of cannabis. Consumers are attracted to the pleasing palatable flavor of sandalwood and skunk followed with a pungent sweet finish. THC is no joke averaging 20% or better in AK 49. Even though this is a sativa strain of cannabis, it's been known to cause a few cases of couch lock. The buzz is generally a very energetic and creative one leaving consumers focused and happy. If you're looking to help control the symptoms of stress, depression, pain, nausea, or migraines, this might be the perfect strain for you. Be sure to have your Visine handy and plenty of water to stay hydrated because AK49 is notoriously associated with dry mouth and eyes.
FAQ
How much THC is in AK-49 strain?
Answer: This strain contains about 20% THC on average.