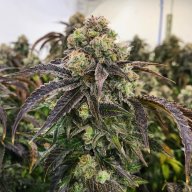 Albert Walker
Indica content
Usage & Effects
Albert Walker
Time of use
AFTERNOON
Albert Walker
Typical Effects
FOCUSED
RELAXED
DRY EYES
Albert Walker
Common Usage
DEPRESSED
A LOSS OF APPETITE
ANXIETY
Albert Walker is a rare cannabis variety that is 60% Indica dominant making this a great afternoon strain. The aroma profile of Albert Walker is very similar to that of Afghan Skunk. It is said that Albert Walker is only available by clone and that it came to be during the Grateful Dead tours. THC averages an impressive 18 to 22% with Albert Walker. Many consumers describe the flavor as sweet and earthy. Consumers report a very euphoric and relaxing buzz that leaves them feeling focused and creative. It said that Albert Walker is a great strain to help those suffering from stress, depression, anxiety, and chronic pain. The 40% sativa heritage is just enough pick me up to mix nicely with the heavy Indica side of the spectrum provide a very relaxing experience.
FAQ
How much THC is in Albert Walker strain?
Answer: This strain contains about 15% THC on average.