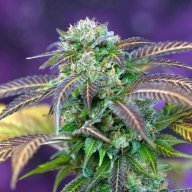 Usage & Effects
Alchemy
Time of use
EVENING
Alchemy
Typical Effects
FOCUSED
RELAXED
SLEEPY
Alchemy
Common Usage
ARTHRITIS
INSOMNIA
MIGRAINES
Alchemy is a 50/50 hybrid that has equal amounts of indica and sativa. You never know just how this strain is going to treat you. It could have you up checking off your chore list. But, then again, it could have you couch-locked in a lazy haze. THC averages 22% in this cannabis strain. Querkle and Chemdawg were some of the genetics used in the creation of Alchemy. If you love purple bud, you will absolutely love Alchemy because it is basically purple bud with purple trichomes! The lovely lush purple nugs of pleasure won't disappoint, providing an earthy hash-like flavor. The buzz is one that will even leave you feeling creative and focused or sleepy and relaxed. Either way, a case of the munchies, giggles, dry eyes, and cottonmouth are sure to be in your future should you decide to try a little Alchemy.
FAQ
How much THC is in Alchemy strain?
Answer: This strain contains about 22% THC on average.