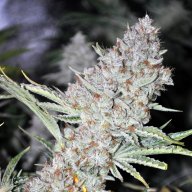 Alien Abduction
THC Content
Alien Abduction
CBD Content
Alien Abduction
Indica content
Usage & Effects
Alien Abduction
Time of use
EVENING
Alien Abduction
Typical Effects
FOCUSED
RELAXED
SLEEPY
Alien Abduction
Common Usage
DEPRESSED
INSOMNIA
MIGRAINES
Alien Abduction is a 70% Indica dominant variety of cannabis. Alien abduction is a great nighttime strain up cannabis. THC comes in extremely high, averaging 20 to 30%! Just a couple of puffs of this stuff, and you wouldn't know if you were abducted by an alien or not. The buds are neon green with amber-colored hairs and the little tiny patches of yellow throughout them. The trichomes sparkle like a blanket of stars in the night sky. The flavor profile has hints of pine and lemon. The smell from these buds is described as skunky and fruity. The buzz is reported to be an extremely happy one that leaves you feeling relaxed and sleepy. Alien abduction is a great strain of cannabis to help fight the symptoms of migraine headaches, chronic pain, stress, anxiety, and more.
FAQ
How much THC is in Alien Abduction strain?
Answer: This strain contains about 29% THC on average.