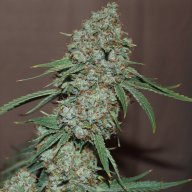 Usage & Effects
Alien Dawg
Time of use
EVENING
Alien Dawg
Typical Effects
RELAXED
COTTON MOUTH
CREATIVE
Alien Dawg
Common Usage
DEPRESSED
A LOSS OF APPETITE
ANXIETY
Alien Dawg is a 70% Indica dominant variety of cannabis that many consumers find to be the perfect nighttime strain for them. Alien Dawg boasts a high THC level of 18 to 24% or better. The buds are bright green with little red hairs and tend to have a blanket crushed diamond-like layer of trichomes covering them. This indica doesn't carry the normal characteristics of making you feel relaxed and sleepy. Instead, this one leaves you feeling relaxed and creative with a very euphoric feeling. It's supposed to be great at helping battle the symptoms of anxiety, depression, stress, chronic pain, as well as helping with your appetite. This means a major case of the munchies could be in-store if you happen to sesh with Alien Dawg.
FAQ
How much THC is in Alien Dawg strain?
Answer: This strain contains about 20% THC on average.