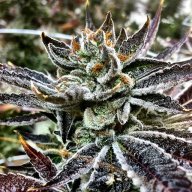 Usage & Effects
Alien Fire
Time of use
EVENING
Alien Fire
Typical Effects
RELAXED
SLEEPY
DRY EYES
Alien Fire
Common Usage
DEPRESSED
ANXIETY
INSOMNIA
Alien Fire is a 70% Indica dominant variety of cannabis that is absolute fire. You might say it's out of this world fire even. THC averages around 18 to 24% with this potent pot. The flavor profile is absolutely amazing with hints of fruit such as grapefruit, kiwi, and lemon with earthy diesel-like undertones. The buds are often bright green with dark red hairs and an exuberant amount of trichomes. This strain makes for a great aid in helping fight the symptoms of insomnia, chronic pain, as well as depression, stress, and anxiety. It's also known to help people who suffer from nausea and poor appetite. The buzz is described as euphoric and relaxing for most. This weed is known to give consumers cottonmouth and dry eyes, so don't say you haven't been warned. If you're looking for a great way to relax at the end of a hard day, you may consider a little Alien Fire to plug the hole in your bowl.
FAQ
How much THC is in Alien Fire strain?
Answer: This strain contains about 18% THC on average.