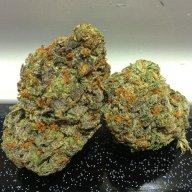 Alien Inferno
Indica content
Usage & Effects
Alien Inferno
Time of use
EVENING
Alien Inferno
Typical Effects
SOCIAL
HAPPY
CREATIVE
Alien Inferno
Common Usage
DEPRESSED
A LOSS OF APPETITE
PAIN
Alien Inferno is a 70% Indica dominant variety of cannabis that makes an excellent before bed or winding down strain. Diablo, White Fire
#6,
and Alien OG came together to create this inferno of cannabinoid happiness. The THC level in this strain comes in at an average of 19% or higher. The buds have a dark forest green color rich in red hairs and trichomes that carry the aroma of diesel and pine. Alien Inferno is said to offer consumers a delightful and euphoric buzz that leaves them social and creative. Medically the strain is great to help battle the symptoms of chronic pain, nausea, depression, anxiety, and more according to many anecdotal reports.
FAQ
How much THC is in Alien Inferno strain?
Answer: This strain contains about 20% THC on average.