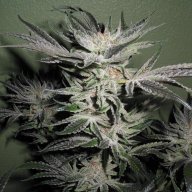 Usage & Effects
Alien Kush
Time of use
AFTERNOON
Alien Kush
Typical Effects
RELAXED
PARANOIA
COTTON MOUTH
Alien Kush
Common Usage
DEPRESSED
ANXIETY
INSOMNIA
Alien Kush is a 60% Indica dominant variety of cannabis that many people love in the early afternoon. Sweet sativas are a great way to start your day and help get you through the lunchtime crunch. But at the end of your day, the last thing you really want to do is be wired. That's where this Indica dominant strain of cannabis can be your friend. Alien Kush was created using Las Vegas Purple Kush and Alien Dawg. THC averages about 20% or better, depending on the grower. The buds are beautiful green nugs with lots of red hairs. The flavor profile is described as spicy, earthy, and piney. According to reports, the buzz is a very euphoric relaxing one that leaves consumers in a creative state of mind. Many consumers report this strain helping them fight chronic pain, nausea, anxiety, stress, and depression.
FAQ
How much THC is in Alien Kush strain?
Answer: This strain contains about 19% THC on average.