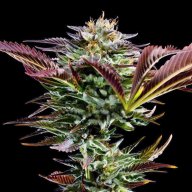 Usage & Effects
Alien OG
Time of use
AFTERNOON
Alien OG
Typical Effects
RELAXED
DRY EYES
COTTON MOUTH
Alien OG
Common Usage
DEPRESSED
A LOSS OF APPETITE
ANXIETY
Alien OG is a 60% sativa dominant variety of cannabis that makes for a great wake and bake or after work sesh. Alien Kush and Tahoe OG were crossed to create the impressive Alien OG variety of cannabis. THC comes in at a jaw-dropping 22 30%. The buds are very tight and bright green with brilliant orange pistols. They are wrapped in a blanket of trichomes that look like crushed diamonds. The flavor profile has a hash taste with a spicy finish. The buzz is a euphoric one that leaves consumers feeling relaxed yet social, and creative. Medically Alien OG is a great strain to help fight the symptoms of anxiety, stress, depression, and chronic pain, according to numerous consumers worldwide.
FAQ
How much THC is in Alien OG strain?
Answer: This strain contains about 28% THC on average.
Where can I buy Alien OG weed strain?