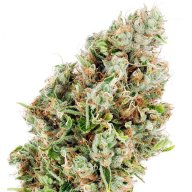 Usage & Effects
Alien Rift
Time of use
AFTERNOON
Alien Rift
Typical Effects
FOCUSED
RELAXED
SLEEPY
Alien Rift
Common Usage
ANXIETY
INSOMNIA
PAIN
Alien Rift is a 70% Indica dominant variety of cannabis that is out of this world. Alien OG, Alien Dawg, and Alien Abduction all played a part in the creation of Alien Rift. This heavy-hitting Indica strain of cannabis is no joke packing an impressive THC level between 20 and 24%. The buds are a mossy green with hues of lavender and deep purple tones throughout them. They are wrapped in gorgeous Amber pistols and blanketed in a fresh snow like coating of trichomes. When you break this weed up, be careful of the trichomes that stay behind because they can sting your eyes. Many consumers report a very relaxed and focused buzz that leads them to a major case of the munchies before a feeling of couch lock. Alien Rift is a great strain to help fight the symptoms of insomnia, pain, stress, depression, anxiety, and more.
FAQ
How much THC is in Alien Rift strain?
Answer: This strain contains about 24% THC on average.