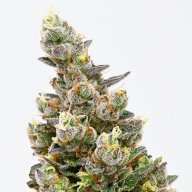 Alien Rock Candy
THC Content
Alien Rock Candy
CBD Content
Alien Rock Candy
Indica content
Usage & Effects
Alien Rock Candy
Time of use
EVENING
Alien Rock Candy
Typical Effects
RELAXED
CREATIVE
SEDATED
Alien Rock Candy
Common Usage
DEPRESSED
A LOSS OF APPETITE
ANXIETY
Alien Rock Candy is a 55% Indica dominant variety of cannabis that is a great morning or afternoon strain. Tahoe Alien, Sour Double, and some other genetics went into the creation of Alien Rock Candy. The result was an extremely potent flavorful variety of cannabis that people around the world have grown to love. THC averages 16 to 18% and sometimes even comes in higher depending on the grower and starting genetics. The small popcorn-like buds are dark green with rusty colored hairs throughout them. Trichomes blanket the popcorn nugs like a thick layer of sparkly glitter. Consumers report this to be a great strain to fight the symptoms of anxiety, loss of appetite, depression, stress, and other mood disorders. The buzz is a very relaxed one that will leave you feeling creative before feeling sedated according to many reports.
FAQ
How much THC is in Alien Rock Candy strain?
Answer: This strain contains about 18% THC on average.