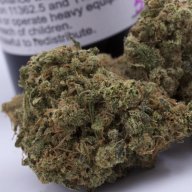 Allen Wrench
Sativa content
Usage & Effects
Allen Wrench
Time of use
MORNING
Allen Wrench
Typical Effects
FOCUSED
COTTON MOUTH
CREATIVE
Allen Wrench
Common Usage
DEPRESSED
TRAUMATIC STRESS
ANXIETY
Allen Wrench is an 80% sativa dominant variety of cannabis that makes a great wake and bake strain to start your morning. This extremely potent strain has impressive THC levels averaging between 16 and 30%! Alien Wrench is a hybrid created by crossing NYC Diesel, and a little something else. The nugs are very long and tend to be a moss green color with brilliant orange hairs all throughout them. The trichome coverage on these buds is so intense it looks as if they were rolled in crushed glass. The flavor profile is a very earthy pungent and piney one. Many consumers find this strain to provide focus and creativity while also sparking a very happy and social feeling. This strain of cannabis is also known to give you cottonmouth, so make sure you have hydration handy. It's commonly used to fight off PTSD, anxiety, depression, stress, and other mood disorders.
FAQ
How much THC is in Allen Wrench strain?
Answer: This strain contains about 28% THC on average.