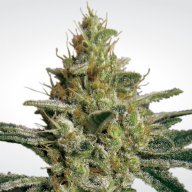 Usage & Effects
Allkush
Time of use
EVENING
Allkush
Typical Effects
RELAXED
SLEEPY
HAPPY
Allkush
Common Usage
DEPRESSED
ANXIETY
PAIN
Allkush is a 75% indica variety of cannabis. The genetics behind the strain of cannabis remains a mystery. It is known that they originated from the Hippie Trail, but nobody knows exactly where. THC comes in at an impressive average of 18 to 20% and sometimes higher. The buds are very small popcorn shaped buds that are bright green with yellow hairs. The trichomes are abundant, making the buds look sparkly in life. The smell carries hints of tree bark and the familiar aroma of Kush. The flavor profile is described as being herbal and spicy. Many patients and consumers say this is a great strain to battle the symptoms of anxiety, depression, stress, chronic pain, insomnia, and more. The buzz is a very happy and relaxed one that ultimately leads to sleep, according to most.
FAQ
How much THC is in Allkush strain?
Answer: This strain contains about 18% THC on average.