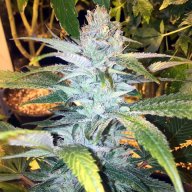 Aloha Berry
Indica content
Usage & Effects
Aloha Berry
Time of use
AFTERNOON
Aloha Berry
Typical Effects
FOCUSED
RELAXED
SOCIAL
Aloha Berry
Common Usage
DEPRESSED
A LOSS OF APPETITE
MIGRAINES
Aloha Berry is a 60% Indica dominant variety of cannabis that comes from the tropical paradise of Hawaii. THC can be a very balanced 16%, or it can come in at a staggering 28% depending on the genetics utilized and the specific grower. The bud puts off a very fruity aroma with a distinguished smell of blueberry. The flavor profile is a pungent sweet one with hints of nuts and skunk. The buzz from Aloha Berry is a very social one that leaves most consumers feeling focused and relaxed. It's reported that Aloha Berry helps fight the symptoms of depression, anxiety, loss of appetite, migraines, chronic pain, and more by patients worldwide.
FAQ
How much THC is in Aloha Berry strain?
Answer: This strain contains about 28% THC on average.