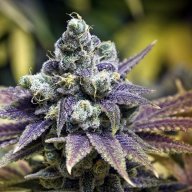 Usage & Effects
Alpha Blue
Time of use
AFTERNOON
Alpha Blue
Typical Effects
FOCUSED
DRY EYES
PARANOIA
Alpha Blue
Common Usage
DEPRESSED
A LOSS OF APPETITE
ANXIETY
Alpha Blue is a 90% sativa dominant cannabis strain. This potent ganja was created by combining NYC Diesel and Blue Dream. THC comes in at an average of 15% all the way up to 20% or higher. The buds from Alpha Blue have a distinguishable triangle shape to them. They are rather fluffy and have a bright green color. An abundance of orange and red hairs and a thick blanket of sparkly trichomes are quite common with this strain. The flavor is described to be extremely sweet, with hints of blueberry and floral tones. The buzz is an extremely focused one that leaves you feeling extremely energetic, and some even report a little on the paranoid side. Dry eyes and dry mouth are a given, so make sure you have hydration handy. Consumers also report this strain helping them with the symptoms of anxiety, stress, depression, and a loss of appetite.
FAQ
How much THC is in Alpha Blue strain?
Answer: This strain contains about 20% THC on average.