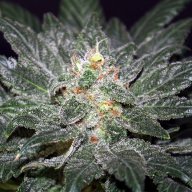 Usage & Effects
Ambrosia
Time of use
MORNING
Ambrosia
Typical Effects
FOCUSED
RELAXED
SOCIAL
Ambrosia
Common Usage
DEPRESSED
INSOMNIA
MIGRAINES
Ambrosia is a 50/50 hybrid cannabis strain that makes for a perfect wake and bake or an end of the day sesh. Ambrosia means "food of the Gods" in Greek. It is a very fitting name for this delicious strain of cannabis. THC averages at a mild 14 to 16%, but the full cannabinoid profile that comes along with it makes for a great entourage effect. With the first sniff of the buds, you'll smell an earthy, sweet pine-like aroma with hints of tropical fruit. The flavor matches the smell of the buds. The buzz is often referred to as being a focused and relaxed one that leaves people feeling social and chattery. Medically the strain is great for helping fight off the symptoms of depression, insomnia, chronic pain, PTSD, migraines, and more according to patients globally.
FAQ
How much THC is in Ambrosia strain?
Answer: This strain contains about 16% THC on average.